A Reputation for Creativity & Attention to Detail
By: Allison Miller
Sam Morgan of Morgan Builders redefines "custom-built." Last fall, he was honored with "Best in Parade" at the HBA of Winston-Salem Parade of Homes for his work on a custom-built home in the Milburn community located in Clemmons. Morgan calls the work he did on this home "design as we go." Instead of working off of blueprints, each room was a collaboration of ideas from Morgan and his team, and was quite literally built as those ideas hatched. One example is in the kitchen, where the team drew out the cabinets on the floor, reworking their ideas until they came up with the perfect plan.
"We didn't have ourselves trapped in the corner by being married to a blueprint. Once we saw something that might work better, we allowed ourselves the flexibility to move and change from our original ideas while it came to life," said Morgan. "This flexibility really ensured that a creative opportunity wouldn't be missed." You can see much of Morgan's creativity in the trim of his homes. Each home has a theme, like the home he designed that won a Gold Award in the Fall 2011 Parade of Homes.
For this home Morgan visualized a Nantucket theme that he carried from room to room – with clean lines, vintage wood painted white for a rustic appeal, board and batten walls, custom hardware and many other unique features. For the living area, Morgan practiced staining wood in his own garage until it matched his vision for the home, then went onsite and sanded it to perfection himself.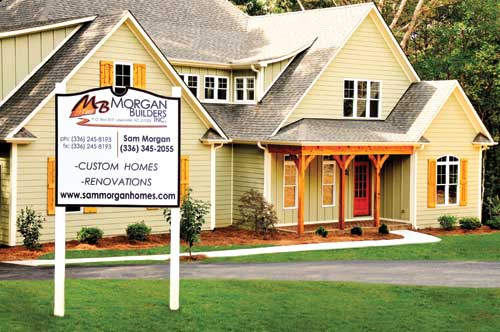 His creativity is also evident in his use of space, and can be seen in the smallest details. In one home, the owner wanted a place for the cat to use the litter box, but didn't want the litter box inside the house. So Morgan created an entry between the wall on the inside of the home and the attached garage, and made it to appear as a cat-sized "mouse hole." That space held the litter box and was even rigged with motion-detection lights for the cat to see inside. But the homeowner may have enjoyed it the most, because she could change the litter box from the garage.
In another home, Morgan maximized the space under the attic eaves to create a telephone booth to inspire a young girl's creative play. Morgan really enjoyed working with this homeowner throughout the entire creative process, down to the final stages of the decorating.
Another home was also highly energy-efficient, a quality important to both the homeowner and Morgan. It included foam insulation, a geothermal heating system, and an Energy Star rating.
Morgan's latest project was featured in this spring's HBA Parade of Homes, and is also a perfect example of how Morgan treats all projects, no matter how big or small, with extensive attention to detail.
"Sam didn't sacrifice quality, craftsmanship or finishes in the construction of our home. Our home is a smaller footprint (approximately 2800 sq. ft.) and it has the same quality craftsmanship of other homes that are twice the size and price he has previously built," said the homeowner, Glenna Weidner. "Sam took our vision and made it a reality."
Previous
Next
Connect with home resource professionals in our area today.