Coming Home Again…. and Again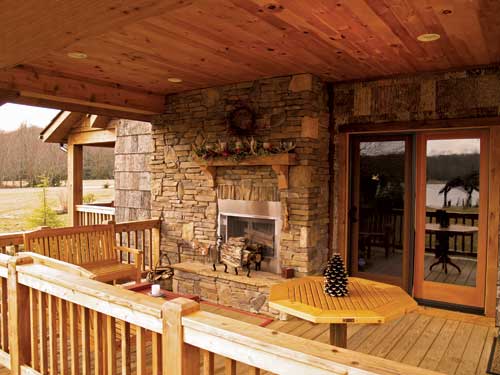 by Kimberley Wray 
Choosing a builder is no easy task, particularly when the project is as important as one's home. With so much at stake, how do you determine which company will perform as promised, who will be a partner in what should be an exciting journey, and who will deliver the home of one's dreams?
When it comes to Wishon & Carter Builders, Inc., builders of quality custom homes from Greensboro to Blowing Rock since the early '70s, there's an easy way to judge. Set aside the awards—including The Best in American Living (BALA) presented by Professional Builder Magazine, and numerous Parade of Homes honors—the glossy brochures filled with gorgeous photography of their projects and all the glowing testimonials and you are left with one simple, and very striking fact. As a company, ninety-percent of Wishon & Carter's revenue is derived from repeat customers.Certainly, experience is one reason customers continue to return. With more than 40 years of design and craftsmanship to their credit, Wishon & Carter Builders is one of the most experienced construction companies in North Carolina.
"All that longevity plays into the experience," says Matt Dunn, vice president of the family-owned concern, "but the key to our long-term success, and the satisfaction of so many customers, is our 35 employees with an average tenure exceeding 18 years each.  On every project we employ our own craftsman and they execute the custom framing, trimming, cabinetry, timber-frame accents, rustic elements and extraordinary finish details that we are known for. We're not farming the work out to sub-contractors. Our people really care about the how the home looks and they really care about the homeowners."
According to Dunn, "this allows us to handle the total package better than anyone else. We love to meet people at the very beginning of their home-building experience," he says. "In many cases, they don't even own the land yet, and we evaluate their land and interpret what they've drawn on a napkin into a real home plan. It's all turn-key and we have multiple project managers to manage the process and design decisions with the customer. We evaluate the site, design the home and draw the plans and then execute it with our own carpenters who make the home unique to the individual. We really handle every aspect."
One aspect, of which Dunn is understandably proud, is the company's ability to not only make spaces unique, but livable. "Anybody can build a huge structure, with a huge great room and 40-foot ceilings, but that's not livable," he says.
Indeed, the BALA Award was bestowed for a 7,000-square-foot home in Blowing Rock called Hemlock Lodge, not because of the home's spectacular design and size, but due to its warmth and intimate spaces. "We design for the way people live," Dunn says. "We don't create palaces that have no connection to reality.  While we're proud of Hemlock Lodge, we're just as proud of a 1,300-square-foot Cove Cabin we recently built because the design fit so well with the homeowner's needs. Our craftspeople are artisans and the smaller spaces we create receive just as much detail, personality and character as the larger ones."
That's important given today's trend toward scaled-back living spaces. "I think for many reasons—the economy, the environment—consumers are expressing renewed interest in living within their means. Defining what that means is different for everyone, but homes have changed so much over the years that everybody realizes the galley kitchens and four-foot closets we grew up with in our parents' ranch homes aren't going to fit with our lifestyles these days. We're doing a lot more open kitchens today, for example, that feature dining areas with bar seating, as a way to reduce square footage, and therefore, costs, and are ideal for entertaining."
Previous
Next
Connect with home resource professionals in our area today.