Engaging a Landscape Architect
by Jeff Allen, ASLA, Jeff Allen Landscape Architecture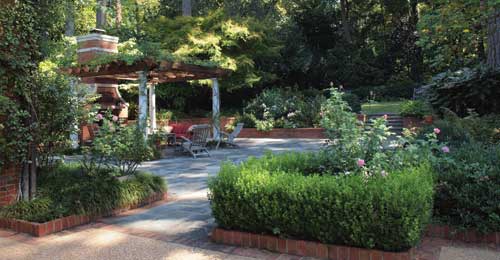 Thanks to the increased popularity of television programs devoted to all things home and garden, homeowners everywhere are discovering a whole new vocabulary for the outdoors. Where once mowing the lawn on a Saturday afternoon was the extent of their concerns, lately they find themselves contemplating phrases like "curb appeal," "hard-scape," "garden room," and "water feature."
The one phrase I find people less familiar with, however, is "landscape architect."
In my profession there are many designers with a wide range of qualifications, training and expertise. That leads to a lot of confusion in the marketplace about just what a landscape architect actually does.
Since making improvements to your property can be a big investment, it pays for a homeowner to work with a design professional who can help guide you through the process, add value to your project, eliminate stress and make the experience an enjoyable one.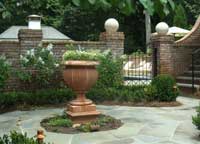 Simply put, a landscape architect is a state licensed professional with a degree in landscape architecture. Landscape architects provide a variety of drawings similar to an architect that illustrate the arrangement of landscape elements such as pools, walkways, patios, and of course plantings.
Other services landscape architects offer include helping clients navigate the bidding and negotiation process of selecting a contractor, as well as working with contractors and homeowners during the construction phase to ensure a successful project.
Whether you have been thinking about installing a pool, an outdoor kitchen, or a rose garden, or you simply want to give your home a healthy dose of curb appeal, you can benefit from a consultation with a professional.
Some things to consider in choosing a landscape architect:
• The practice of landscape architecture covers a wide range of activities from land planning, parks and recreation, urban and commercial design, residential garden design and more. So look for a landscape architect who practices the type of design that you seek.
• Request referrals from friends and neighbors. Many architects, interior designers and contractors have experience working with landscape architects as well.
• Research the difference between hiring a landscape architect versus hiring other related professionals, which can include landscape designers, landscape contractors and master gardeners. Knowing the difference will help you decide to hire the person that is right for out.
• Check with your state's chapter of the American Society of Landscape Architects for references to landscape architects. Landscape architects are registered with the state's chapter.
• Call landscape architects to get a feel of how they work. Ask to see examples of their work by way of pictures, websites or even on Facebook pages.
Interview your candidates and determine if the landscape architect has a comprehensive knowledge of products and materials, trends in the industry and understands your needs, schedule and budget.
• Finally, ask about the company's process for design, the deliverables, fees and payment schedule. Feel free to ask for references and remember all questions are valid. This should establish an understanding of expectations for all parties involved and set a good path for communication moving forward.
Previous
Next
Connect with home resource professionals in our area today.