How to Select a Countertop Best-Suited for You
by Joe Duszka from Carolina Custom Surfaces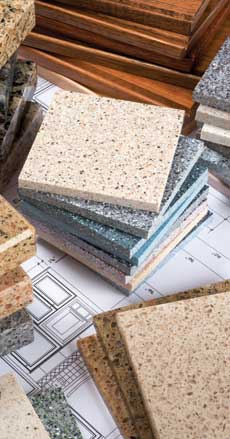 "There are just so many options, I thought choosing the countertops would be the easy part." As the owner of a kitchen and bath countertop company, it never surprises me how often I hear these words. The truth is, with the number of different material options available to homeowners today, not to mention the number of manufacturers of each product, choosing a countertop that accommodates your needs and lifestyle can be a daunting task. But don't panic. Stop. Breathe. Take time to ask yourself the questions below, and you'll be well on your way to making one of the more important decisions for establishing the right look for your kitchen. First, what is the budget for your countertop installation? Like most purchasing decisions, there is a wide range of price points to consider when you are looking at countertops. Laminates are widely recognized as one of the more affordable options at roughly $10 to $30 per square foot, while natural stones, such as granite, start closer to $40 per square foot and can exceed $150 per square foot.
Second, how do you use your countertops? Different materials have different performance attributes that you should weigh in relation to your lifestyle. Some products are virtually maintenance-free, while others, such as butcher block, will require some effort to maintain. Some qualities to consider are stain resistance, abrasion resistance, heat resistance, and difficulty of repair in the event that, well, life happens.
Third, what are the visual qualities that you would like your countertops to have? Are you looking for an integral sink that appears to be part of the countertop or would you rather have a sink made from a dissimilar material? Can the countertop material accommodate both undermount and drop-in sinks? Do you care whether the backsplash is integral (coved) to the countertop, as opposed to detached and installed on top of it? Are visible seams in the countertop a concern for you? Do you love the variation in pattern of natural stones where each slab is a unique piece of art, or are you more inclined to choose the more consistent, predictable appearance of quartz, solid surface, or laminate?
To help summarize some of the answers to the questions posed above, I have included the following table as a quick reference. In addition to this information, make sure you check with your local Better Business Bureau when selecting a kitchen and bath professional. For an expanded discussion on other factors to consider in selecting countertops, including Green options, please visit www.carolinacustomsurfaces.com and click on the link, "How to Choose a Countertop!"
Previous
Next
Connect with home resource professionals in our area today.