Loss of Friend and Colleague: George Byron "Buck" Horn
We are sad to announce the passing of our dear friend and colleague, Buck Horn. Our prayers go out for all of the Horn family.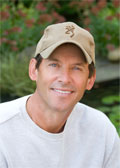 LEWISVILLE – Mr. George Byron "Buck" Horn, died Friday, November 11, 2011 at Wake Forest Baptist Health Center from complications of leukemia. Buck was born in Forsyth County on September 21, 1957 to Jack and Lucille Barkley Horn. He graduated from N.C. State University in 1980 and never worked for anyone but himself. He opened the now legendary Buck's Biscuits in Boone, NC, was a successful real estate broker and owner of multiple Zack's Frozen Yogurt franchises in Forsyth County before starting Buck Horn Construction Company in the late 1990s. He quickly developed a reputation for building some of the finest, highest quality homes in the Triad area, and won multiple awards from the Home Builders Association.
Buck was also a fearless and passionate outdoorsman. His enthusiasm for hunting and nature in general began practically from the time he took his first steps. Buck hunted all sorts of game in the United States and Canada, and bagged several world-record Whitetail Deer and Black Bear.
Buck had an abiding faith in God and knew Jesus Christ as his everlasting savior. He was a 25-year member of Old Town Lodge A.F. & A.M. Anyone who ever met Buck and knew him for any amount of time would quickly realize his good nature and outgoing personality were matched only by his generosity and selflessness. Buck would give you the shirt off his back and apologize for not giving more.
Buck is leaving a heritage of integrity, hard work, and love – qualities instilled in him by his parents. He loved his wife and children through his time and leadership as a righteous man. Buck set the absolute best example as a father and a husband, providing for his family with honesty and care.
Buck was preceded in death by his grandparents, Byron & Goldie Horn and George & Lucy Barkley.
In addition to his parents, surviving to cherish his memory are his wife, Nikki G. Horn; four children, Amanda, Caleb, Carly & Hunter Horn; two sisters, Joyce Dellinger (Ron) and Leigh Davis (David); one brother, Scott Horn (Lori); two nieces, Jenna Dellinger and Heather Hutchins; 3 nephews, Joshua Dellinger, Colton, Dylan and Ethan Horn; two great nieces and one great nephew.
A service to celebrate his life will be held 3:00 p.m., Sunday, November 13, 2011 at Agape Faith Church in Clemmons with Rev. J. B. Whitfield officiating. The family will receive friends immediately following the service at the church.
Memorials:
In lieu of flowers, donations may be made for the benefit of his children to the

Buck Horn Memorial Trust
c/o NewBridge Bank
161 S. Stratford Road
Winston-Salem, NC 27104
Online condolences may be made at www.hayworth-miller.com.
Previous
Next
Connect with home resource professionals in our area today.