Seek Professional Help!
by Kimberly Wray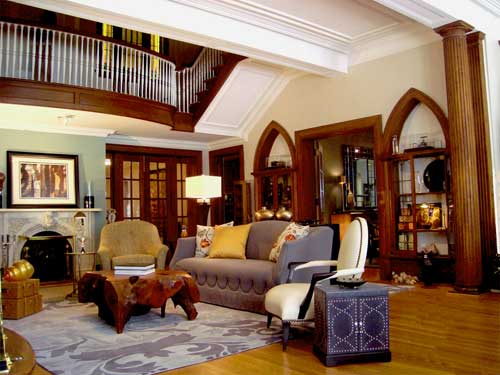 Or How to Avoid Costly Decorating Mistakes
When it comes to creating a great space, getting it right can be a real challenge for those of us without years of training in space planning, color and furniture style, not to mention a working
knowledge of the construction and building trades.
With 40 years of interior design experience to his credit, Bruce Anderson, Allied Member, American Society of Interior Designers (ASID), specializes not only in rejuvenating spaces, but in efficiently, and cost-effectively, guiding clients through the entire process.
"Everybody is so busy to begin with, and there is so much over-choice in terms of product selection out there, that it's easy to become confused, frustrated and overwhelmed," he relates. "Working with a designer who can understand and interpret your needs, one who can edit all those choices and help you assess the quality of the products in which you are investing, will save time and money in the long-run."
According to Anderson, another common misconception about the interior design process is the belief that achieving a great look means disposing of all the things you currently own and love. "That's just not realistic," he says. "Whether you are down-sizing or re-doing, you can't just throw everything out." Indeed, the designer regularly incorporates clients' favorite pieces and family heirlooms into plans for their spaces.
Then there's the concern about the end-result, and how it may reflect the designer's style and little (or nothing) of your own. The truth, Anderson says, is that "a great designer uses their unique style and creativity to capture the personality of their client."
Of course, since every job is different, doing so requires a lot of listening. "In terms of the process, I often talk with a client about everything but interior design for clues about what they really want," the designer describes. "I look at how they live and what they are living with now, how they are dressed, what kind of car they drive, their interests, whether they like to travel, kids, sports, and even food."
And, since the greatest fear is typically related to budget, Anderson spells out in advance what the client is paying for, clearly separating design fees—which include time and consultation, measuring, note-taking, lay-out drawings and on-site visits—from charges for product.
For those considering a design project, Anderson emphasizes the importance of research. "Request a client list and call references. Ask if the designer has had any projects published and look at those projects to see if you like their work. Finally, you want to know that he has the best resources—the best drapery person, the best upholsterer—and that he has great rapport with those resources to ensure your project will move along smoothly."
Previous
Next
Connect with home resource professionals in our area today.