Spring Into The World of Water Features
Water Features have been around for centuries and while they are still one of the top trends in the landscaping arena today, before installing one, you must decide what type of water feature you desire? Size, shape, one with weathered boulders and Koi fish swimming in the pond, a fountain, or something that is as simple as a bubbling Urn or boulder? Which would look more appealing in that area of your yard that you have chosen for serenity….the place that soothes the soul and expels all of the stresses away…
When installing a water feature, you much decide what would look best or fit in the area of choice. A rustic, timber frame house, deserves a more natural setting, implementing large, weathered boulders with playful Koi fish chasing each other throughout the pond that captures mother nature. A more formal home would accept a nice architectural approach. Fish can still be implemented into this type of feature, but filtration would have to be designed appropriately.
No fish? Want Safety? No problem! Install a Pondless water feature that requires no water surface, where the water disappears into a bed of pond gravel. You can even utilize the water from the roof of your home to maintain the water level while setting it up for use of irrigation of your landscape.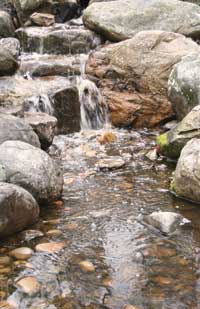 Before installing a water feature, decide upon the type you desire, and then look for a reputable pond specialist that has built hundreds or thousands of features. A good contractor will be able to visualize the end result and make your water feature a master piece in your landscape. Carolina Pondscapes, Inc., a 16 year old water feature, design and build company, based out of Thomasville, NC, is a leader when it comes to building water features. Alan Koontz is the owner and the artist behind the construction of all water features that are built. You can bet that when it comes to some of the most natural water features, they have the edge.
Known nationally through many resources, including several national magazines and media outlets…they have established themselves as one of the leaders in the Piedmont – Triad area in building natural-looking water features. There are past Advisory Board members of the Southern Ideal Home Show and past Director in National Association of Pond Professionals.
Previous
Next
Connect with home resource professionals in our area today.