The Art of Landscape Lighting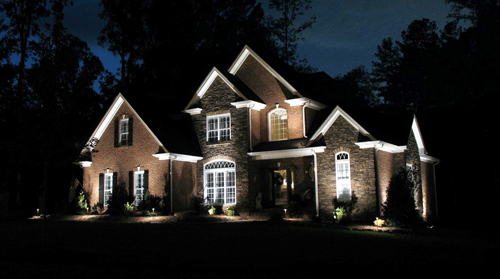 by Tim Burge, Castlelights, Clemmons
Seasons are changing, Daylight Savings time has ended and the Holidays are just around the corner. Meanwhile, you may find yourself arriving from work or other activities to a dark home because of shorter daylight hours. In addition, many of us will have family coming to visit or have planned Holiday celebrations over the next few weeks.
What better way to make a dramatic first impression than to have your guests greeted by a breathtaking outdoor lighting presentation? Great outdoor lighting is stunning in its appearance and offers the added benefit of safety and security. Not only will an outdoor lighting system offer function and beauty during the holidays, but it will become a feature that will enhance the value of your home and can be enjoyed throughout the year.
A low voltage system offers an abundance of light that is efficient and safe compared to conventional 120v lighting. The best design will provide balanced lighting across your property without hot spots, black holes or glare. The caveat is that one has to be very careful as improper lighting can actually cheapen the appearance of your property!
If you are a bit creative and up to the challenge, home improvement centers offer landscape lighting products geared for the DIY'er for just a few hundred dollars. Should you feel that you are beyond a DIY project, you may want to consider a company who specializes in outdoor lighting. Good luck with your project!
Previous
Next
Connect with home resource professionals in our area today.