The Kitchen Faucets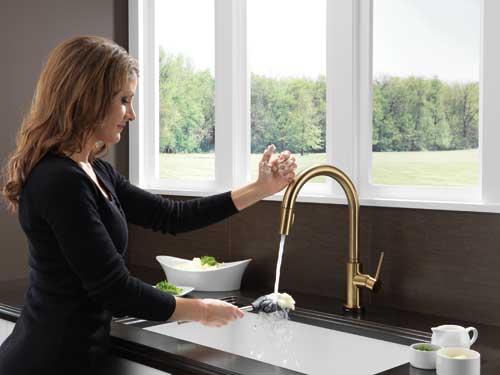 When it comes to faucets, shoppers seem to have an abundance of choices these days. From new styles, features, and finishes, the kitchen faucet has evolved from a common necessity to a high-end fixture with advanced technology.
In many homes, the kitchen is the hub of family life. It serves as a dining room, a living room and a cooking room all in one. Larger and more open designs offer a gathering place for family time and entertaining friends. Because the kitchen is so multi-functional, choosing the nicest fixtures is an important feature of the room where you spend the most time. It has taken awhile, but the technology of electronic faucets…you know those you've used at airports, restaurants and public bathrooms…are starting to catch on in the residential market.
Touch kitchen faucets are the growing trend in the kitchen and make life easier. Why? They are convenient to use and cleaner, leaving less germs to spread. When you have dirty hands you simply touch it on the spout or handle and it turns on or off, leaving no germs and no hand messes on the handle. Another reason is water savings. As you prepare food or wash up in the sink, it's easy to turn the water flow off when it's not needed between tasks.
Modern streamlined faucets will be hot this year, especially pull-down styles. These add both contemporary flair and convenience to your kitchen and work with modern or traditional sinks. The end of the faucet has a pull out cord that converts to a spray nozzle, delivering water exactly where you need it. Overall, they work efficiently and look great.
Previous
Next
Connect with home resource professionals in our area today.