Jeff Allen Landscape Architecture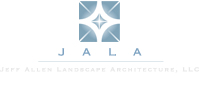 2398 Warwick Road
Winston-Salem, NC 27104
Tel: 336-306-5185
www.JALALLC.com
jeff@jalallc.com
Based in Winston-Salem, N.C. Jeff Allen has long been inspired by well-designed outdoor spaces, founding his company—J A L A, L L C, Jeff Allen Landscape Architecture—to provide homeowners with timeless landscapes that will hold their value throughout the years. JALA specializes in creating classic residential gardens, relating a home to its site with custom designs that are specific to the homeowner's taste, the style of architecture and the surrounding landscape.
We cannot display this gallery
Connect with home resource professionals in our area today.